Clean Air System
AIR TECH21 is a manufacturer of two-stage electric dust collectors.
Air Pollution Prevention Facilities
Bag Filter
Percolation Collector Facilities
In this facility, the air contains dust inhaled by blower, then the dust attached tosurface of filter and accumulate, the filtered air exhausts through upper part. At htis time, the dust attached into surface of filter gathered through bottom rotary valve after shake off due to pulse-air jet system at regular intervals. It is definitely superior collecting efficiency and stability continuous operating. In addition, it is possible to handle multiple ways of wind pressure at rapid filtering velocity.
Characteristic
1 Minimum Setup Area, Fast Processing Speed

The filter has nonwoven fabric rather than using other fabric like other company, so it has twice faster speed to filtering.
Compact design even makes easier for indoor use (minimize setup area).

2 High Efficiency, Stability and Wide Application Range

 High gathering efficiency by using a delicate nonwoven fabric
By continuous dust off system, the pressure lose is stabile and no periodical fluctuation
Because of variety choice of filter cloth, dosen't effect waht you have to clean up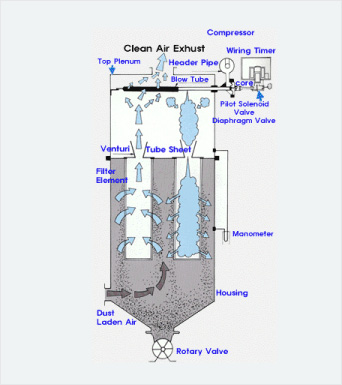 3 Advantage of Micro Pulse-Air Jet

1. High efficiency in collecting dust
2. No alternation of pressures lose
3. High capacity of handling wind pressure
4. It is possible using in hith density
5. Easy to repair
6. Produce many different products.
7. We have a broad application range and plenty of experience and result

4 TYPE

AIR PULSE BAG FILTER
CARTRIDGE BAG FILTER
CYCLONE BAG FILTER
PORTABLE BAG FILTER
VENT BAG FILTER
Application
Pneumatic conveying system
Pulverizing system
Classifying system
Drying system
Cement mill
Coal handling system
Asphalt plant
Cupola
Wood working shop
Food and animal feeds industries
Scrubber
Moisture Washing Facilities
This collector equipped liquid form, water shield, and bubble to wash harmful exhaust fume to separate particle from inflow gas. This facility has ability to manage and collect more than 95% harmful gases, such as dust, Hcl, HF, NH3, and Cl2.
Characteristic
1 Manage specific harmful gas and dust at the same time

It is possible to management of variety harmful gases and dusts.
Easy to manage exhaust fumes at high temperature
It is excellent about collector efficiency of most delicate a corpuscles.

2 Easy to operate, and semi permanent life durability

Simple structure, small portion of fixed surface because of managing gas
Easy to operate, possible to operate continuously, Low effect of temperature of polluted substances, humid, kinds of gas.
Semi permanent life durability due to very strict in selecting material

3 TYPE

PACKED TOWER
VENTURI SCRUBBER
2 BODY TYPE WET SCRUBBER
WET CLONE & ABSORBER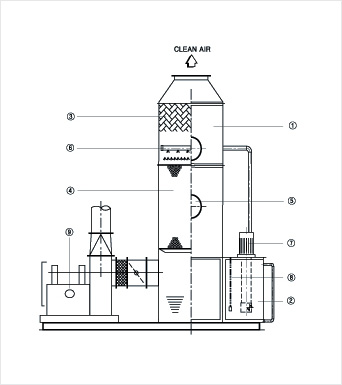 Application
A plating factory
A semiconductor factory
A smelting furnace
Chemistry and pharmaceutic factory
Body casing
Water tank
Demister
Packing
Sight glass
Spray system
Pump
Flow S/W
Fan & Motor
A/C Tower
A/C Tower
Characteristics
This device absorbs and removes toxic gas and offensive odors through physicochemical means. A strong traction force is created by atoms that are free of defects on solid surfaces consisting of a molecular layer and a chemical defect that is unique to gas. This force in turn absorbs gas. The device processes 1㎥/min or more gas and the efficiency rate averages 80% even though this number varies depending on the composition of the gas.
APPLICATION
Feed factory
Food manufacturing plant
Petrochemical plant
Paper mill
Coating factory
Paint booth
Print shop
Organic solvents and odor-producing factories