Clean Air System
AIR TECH21 is a manufacturer of two-stage electric dust collectors.
Portable Electrical Charge
Portable Bag Filter
ATM-1200 / ATM-1800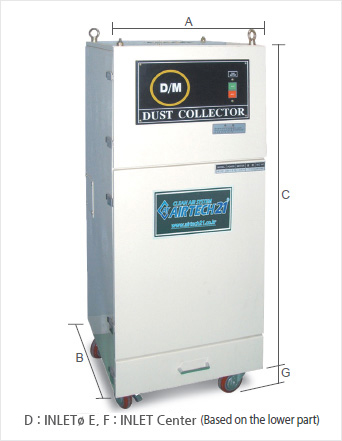 1 24-Hour Operation

Precipitator to perfectly eliminate even particles by spreading compressed air inside Cartridge filter automatically

2 One Touch Filter Exchange

Simple attachment and detachment of Filter without butterfly nuts

3 Ultra Powerful Turbo Fan

Wonderful wind volume and wind pressure and realization of high efficiency and low noise due to dedicated design

4 Recognition of dust accumulation situation of the filter at a glance

Display dust accumulation with analogue and digital differential pressure gauge and alarm filter exchange

5 Easy recovery of dust and materials

Dust Box built in the lower part of the main body is simply attached and detached with One-Touch type, so dust and material recovery are available.
Standard Dimension
Type
Wind pressure
Static pressure
Motor
Filter
Dimension(mm)
Power
㎥/min
mm/Aq
kw
Q'TY
MAT
A
B
C
D
E
F
G
BFT-2000
25
230
1.5
6
Polyester
650
650
1,765
150
225
645
140
AC220V
380V
440V
Three phase
BFT-3000
40
230
2.2
9
770
770
1,785
200
225
605
140
BFT-5000
60
230
3.7
12
900
900
1,850
250
300
550
140
BFT-7500
80
250
5.5
18
1,300
1,300
1,916
300
270
491
140
BFT-10000
100
250
7.5
24
1,700
900
1,971
350
270
490
140
BFT-15000
130
250
5.5×2
24
1,700
900
1,971
400
270
490
140
Caution
Please earth to prevent electric shock.
Please inquire on dust with the danger of explosion.
BFT is a dry dust precipitator, so please be careful about inhaling moist, fume, flare, etc.
Please install Pre-Duster when the operation in which flames occur is carried out.
Standardized type is for indoor use.
Swing-Arm
Swing-Arm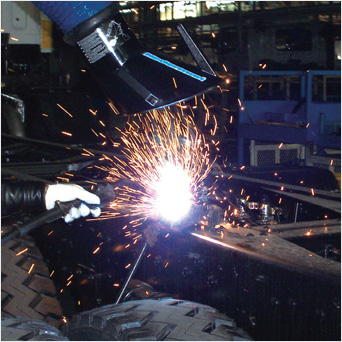 SWING-ARM dedicated to local ventilation
SWING-ARM is the device to intake and forcibly exhaust harmful gases to human body occurring in relatively small range of operations such as welding line. It protects the health of operators and makes the fresh operational environment.
Layout

Characteristic
1 Minimized installation area, quick installation

It does not need a separate space for the installation, so it has excellent space utilization because it is not interfered during operation.
It can approach closely to the operation area, so it can handle gas immediately when occurring.

2 Wide range of application due to free alteration

It is assembled with several joints, so it can approach to the area an operator wants in spite of the wide range of the operation.
It can treat pollutants even in the wide operation space.
The length of SWING-ARM can be extended from 2m to over 5m, so it can be widely used in any operational environment.
Installation Figures
Sungwoo HITECH (China)

Hyundai Rotem

Hyundai Rotem (Car body factory)

Hyundai Rotem (Truck factory)

Volvo Construction Equipment

Volvo Construction Equipment

KIA Motors (Yancheng)

KIA Motors (Yancheng)
Water soluble dust collector
ATM-1200 / ATM-1800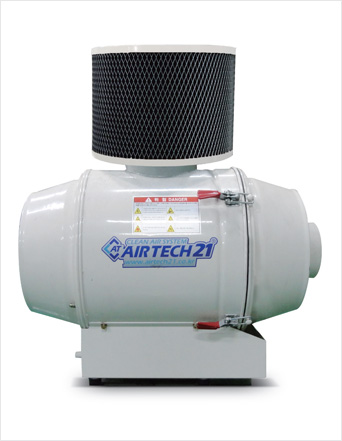 1 Act as a multi-used precipitator

It can be applied for various usages as it can collect different kinds of dusts, wet process, dry process, fume, gold and silver works, etc.

2 Fundamental block electric leakage, the cause of the precipitator motor failure

It operates the motor stably by releasing oil and moist inhaled through the intake into the side section not passing the motor part.

3 Practicality

It can be easily assembled because internal and external covers are disassembled by just opening one-touch lever when cleaning.

4 Economical

Durability of the product has been increased by mechanical design, and with the practical structure, it has a competitive price compared to the capacity of other products

5 Damage to turbo-type impeller is prevented by a detachable chip

Damage to turbo-type impeller is prevented by a detachable chip

6 It can be cleaned with ceramic coated filter for a long time.

It can be cleaned with ceramic coated filter for a long time.
SPECIFICATION
STANDARD DIMENTION
Type
Power
Consumption
(Hp)
The number of rotation
(rpm)
Static pressure
(mmAQ)
Wind volume
(㎡/min)
Noise level
(㏈)
Weight
(㎏)
Diameter of suction
(㎜)
Collection efficiency
(%)
ATM-1200
220V / 380V 60㎐
(Three phase, Single phase)
1Hp
3,420
200
12
70±3
30
123
More than 97% available when Cartridge filter is embedded
(※ errors can occur according to selected filter)
ATM-1800
1.5Hp
3,420
200
19
75±3
33
123
※Customized large-capacity products other than existing model
Dimension
Dimension
Type
DIMENSTION(mm)
A
B
C
D
E
F
ATM-1200
123㎜
350㎜
570㎜
410㎜
200㎜
200㎜
ATM-1800
123㎜
350㎜
600㎜
415㎜
200㎜
250㎜