Clean Air System
AIR TECH21 is a manufacturer of two-stage electric dust collectors.
Application Range Of Airtech21 Clean Air System
This SYSTEM can be applied in all workplaces where polluted indoor air due to different reasons needs to be filtered.
Usually, if particle size is less than 0.01μ, AIRTECH21 CLEAN AIR SYSTEM can be applied effectively, and it can be applied to treat those below.
Oil Mist / Smoke – BOLT / NUT processing
NC lathe, NC MILLING, FORMING M/C
Tobacco Smoke
CALENDER process, TENTER process
Poisonous Gas
Diesel Smoke
Rubber Dust / Grinding Dust / Plastic Dust
Other Smell
Other Smoke / Dust
Characteristics Of ATC Series
ATC SERISE – ORDER SPECIFICATION
ATC SERISE – BASIC SPECIFICATION

Customized products available ranging from at least 10㎥/min to 5,000㎥/min
Installing TANDEM TYPE (DOUBLE PASS TYPE) or TRIPLE PASS TYPE according conditions of pollution sources. (vinyl, wall paper, flooring, safety net, manufacturing process, etc)
Alteration of FAN & MOTOR specification according to installing conditions of DUCT
The lowest price for installing electrostatic precipitators in and out of the country
Compatible parts with imported electrostatic precipitators

Standardized at least from 20㎥/min to 200㎥/min
Embedded FAN MOTOR (Integral type or External type)
No concern for corrosion due to electro deposition coating (exterior)
Invertor operation available (OPTION)
Indoor installation available
New Technology

Active introduction of developed new technology and new technique

Quality

Customer satisfaction with the excellent quality

Cost reduction

Realization of Customer surprise with cost reduction and on-time delivery
Operation Principles Of Double Step Charging-Type Electrostatic Precipatator
Electrostatic Efficiences And Performance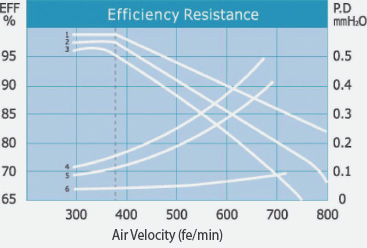 AIR VELOCITY (fe/min)
EFFICIENCY_CURV ES 1,2 and 3

1. Overall DOP (Dioctyl phthalate) efficiency using 10 Stage Cascade Impactor.
2. ASHRAE Standard 52 Dust Spot Test Method Atmosphere Air.
3. 0,3 Micron DOP efficiency using 10 Stage Cascade Impactor.

PRESSURE DROP ACROSS UNIT_CURV ES 4,5 and 6

4. Cell With 40% open perforated plate front and rear.
5. Cell with 1″ metal mesh filter front and rear.
6. Cell only.